Prosciutto Wrapped Breadsticks
https://www.elementsurfaces.net/wp-content/uploads/2018/07/Hawthorne-embedded--1024x683.png
1024
683
Taylor Tedford
Taylor Tedford
https://www.elementsurfaces.net/wp-content/wphb-cache/gravatar/2ea/2ea05cb0895c6dbe70200eb3fedc1ee5x96.jpg
More Prone to Burning your Food then Perfecting It?
This is the party appetizer you've been looking for.
This delicious appetizer can be eaten with one hand, and satisfies every salty crunchy craving.
Perfect for the mom-on-the-run, the dad-on-duty, the girl-on-the-go, this appetizer is as easy to make as it is to eat.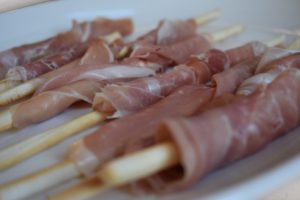 ingredients:
8 thin slices of prosciutto
8 grissini breadsticks
directions
Wrap one slice of prosciutto around each breadstick, leaving 5-6 inches of the breadstick exposed on one end.
Pour a glass of your favorite Pinot, and enjoy!