Caprese Crostini with Burrata & Prosciutto
https://www.elementsurfaces.net/wp-content/uploads/2018/03/use-1-1024x519.jpg
1024
519
Taylor Tedford
Taylor Tedford
https://www.elementsurfaces.net/wp-content/wphb-cache/gravatar/2ea/2ea05cb0895c6dbe70200eb3fedc1ee5x96.jpg
Taste Tuscany Today
These little bites pack all the flavors of Italy's famed caprese salad, but with an updated twist. The dry yet fruity notes of the Pinot Grigio we've paired it with allows the flavor of this salty/sweet/herby Tuscan treat to shine through.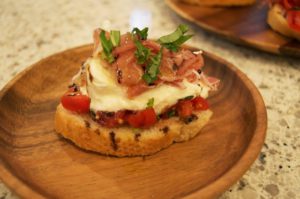 ingredients
1 whole ball of burrata (or fresh mozzarella)
+
1 baguette
olive oil for brushing on
¼ lb prosciutto di parma
+
caprese mix:
½ pt sweet cherry tomatoes, quartered
8 fresh basil leaves, chopped
½ clove of garlic, finely minced
¼ cup good olive oil
1/2 tsp salt
fresh cracked pepper to taste
+
balsamic vinegar for drizzling on top
Preheat the oven to 400 degrees.
Cut the baguette into ¾" slices and place on foil lined baking sheet. With a pastry brush, brush lightly with olive oil, sprinkle with salt and pepper and bake till lightly toasted, about 8 minutes.
Toss all the ingredients for the caprese mix in a bowl, mix well and set aside.
Slice the burrata into 8 wedges that will fit on the toast. It is a soft, runny cheese, so don't be afraid if the filling runs. You can scoop up with a spoon and top the crostini with any spillage.
To assemble the crostini, first cover the toast with the tomato mix, then layer a wedge of the burrata, and top with a clump of prosciutto. Drizzle with excellent, syrupy balsamic vinegar and good olive oil, sprinkle with some chopped basil, and enjoy!