Teriyaki Tuna & Avocado Poke Nachos
https://www.elementsurfaces.net/wp-content/uploads/2018/04/close-up-2-1024x679.jpg
1024
679
Taylor Tedford
Taylor Tedford
https://www.elementsurfaces.net/wp-content/wphb-cache/gravatar/2ea/2ea05cb0895c6dbe70200eb3fedc1ee5x96.jpg
Looking to enjoy the delicacies of going out, while staying in?
Poke bars are hot right now, and you can set your own stunning bar with this delicious fusion appetizer. Sashimi-grade tuna is readily available at most fish mongers and also available frozen in national food chains, like Whole Foods, across the country. Raw not your thing? Substitute cooked shrimp, or even extra firm tofu.
Set on this beautiful stone and paired with a dry and crisp Sauvignon Blanc, you'll be in with the in crowd with this yummy little bite.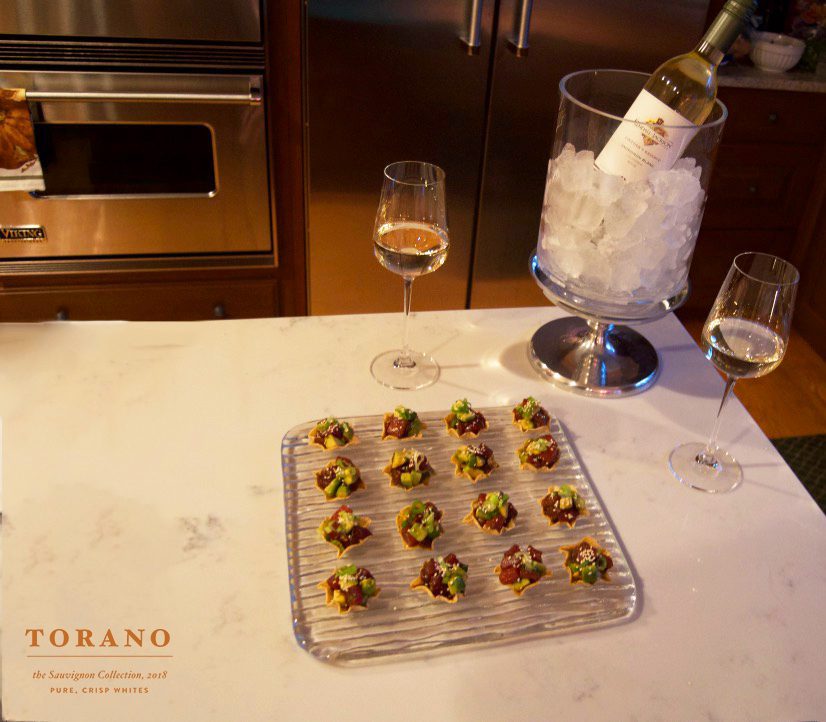 ingredients
  Teriyaki Sauce:
¼ cup low sodium shoyu (Japanese soy sauce)
1 tablespoon honey
1 tablespoon brown sugar
1 teaspoon sesame oil
1 teaspoon of sushi vinegar
1/4 teaspoon finely minced garlic
1 teaspoon finely minced fresh ginger
¼ teaspoon black pepper
+
12 ounces sushi-grade tuna, cut into 1/2" cubes
1 ripe avocado, diced
 1 scallion, white part-minced, green part- sliced
mini tortilla cups (scoops)
+
chopped scallions and toasted sesame seeds to garnish
directions
Make the sauce by combining the soy sauce, brown sugar, honey, garlic & ginger in a small saucepan. Stir over medium heat until the sugar has dissolved. Pour into a medium bow and place into refrigerator to cool completely, about 15 minutes.
Add the tuna, avocado, and the scallions to the cooled teriyaki sauce.
Place on your favorite tortilla chip, top with minced scallions and toasted sesame seeds and serve immediately