Everything tastes better in skewer form, especially antipasto.
Try out these delicious Antipasto Skewers at your end of summer bash.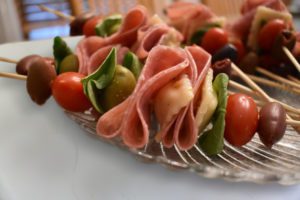 INGREDIENTS
10 oz. cheese tortellini
1/2 cup Kraft Zesty Italian salad dressing
1/2 teaspoon Italian seasoning
50 kalamata olives
25 green olives
50 grape tomatoes
50 thinly slices of salami (I used Calabrese)
25 marinated baby mozzarella balls
100 spinach leaves can subsitute basil
25 12-inch wooden skewers
DIRECTIONS
Cook tortellini according to package directions. Drain and rinse with cold water. In a sealable container, combine the tortellini, dressing, and seasoning. Refrigerate for 1-4 hours, stirring the contents a few times.
Gather remaining ingredients when ready to assemble skewers.
Thread the wooden skewer the following way:

kalamata olive
tomato
spinach *fold leaves in half
tortellini *there will most likely be leftover tortellini so grab tortellini directly from the container and put it on the skewer.
spinach
salami *fold slices into fourths

mozzarella ball

tortellini
spinach
salami
green olive
spinach
tomato
kalamata olive

Pull out the chilled Sauvignon & enjoy!
*This should prepare approximately 30 skewers, but you can easily halve or double this recipe as needed.