We're a little Moodie, but it keeps Monday interesting. Check it out.
#findyourelement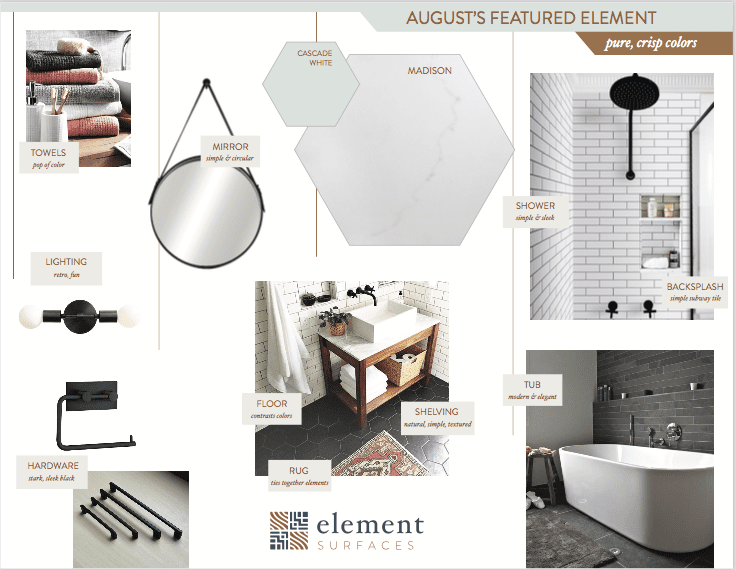 This stunning white and cream based quartz with light grey veining is one of our favorites in the Element Stone line. It's soft white coloring and grey striations mimic marble's natural veining, giving you the natural look you love, without the constant maintenance marble requires.
Madison will pair perfectly with Benjamin Moore's Cascade White paint. This beautiful blue-green-grey shade compliments Madison beautifully, while bringing a peaceful and airy feel to your bathroom. A simple black honeycomb tile contrasts our countertop and wall color, and will give the room balance.
In order to add some warmth and texture to the room we suggest a natural wood open vanity. This simple touch will add a homey element to the room, and allow you to showcase your fun new towels, bringing a pop of color into an otherwise neutral space. A gorgeous patterned rug like the one shown will play off of each color in the room, and tie them all together.
A bathroom isn't complete without a stunning shower! White subway tiles with a sleek black rain showerhead gives a timeless look to the bathroom. A gorgeous modern free-standing tub brings an elegant and serene feeling to the bathroom; transforming the room into a peaceful escape.
We love to use lighting to transform spaces into elements where homeowners truly feel at home. This retro light will bring a fun vibe to an otherwise classic space, and add a touch of personality. Stark and sleek matte black hardware will pop against our beautiful Madison, while adding depth and feeling to the space. A lovely black circular hanging mirror will complete your element.
Featured Designer: Madyson Bouma