Feelin' a little Moodie this Monday?
Us Too.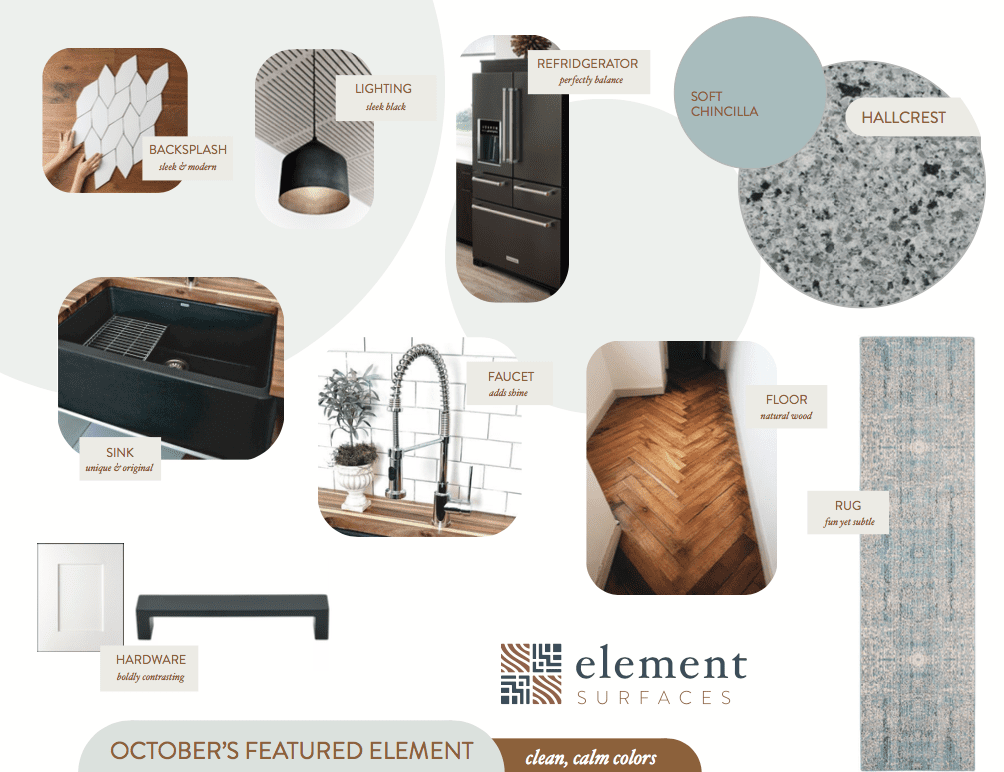 Hallcrest's subtle mix of white, grey, and black speckling appeals to a neutral palette while bringing texture and life to your space. This stone is the perfect choice for the busy mom who hates seeing every crumb. If your kids (or husband) are prone to eating plateless – Hallcrest has your back. It's soft speckling offers a natural disguise to the daily wear and tear that a lived-in kitchen undergoes. While all Element Stone surfaces are stain, heat, and scratch resistant Hallcrest has the added advantage of being able to hide any natural tarnishing which may occur over time.
The kitchen can often feel like a messy and chaotic area of the house- like when you were supposed to leave 20 minutes ago and your son's asking you where his homework is and your daughter's whining about taking the bus and your husband's asking you where his jacket is and you can't find a clean coffee cup and you'd kill for 10 seconds of quiet. With all of the craziness that usually occurs in the kitchen we strive to create an element that naturally combats an impending breakdown. Therefore we recommend choosing a paint color which induces feelings of cleanliness and calmness, such as Soft Chinchilla by Benjamin Moore. This dusky blue adds a soft pop of color and pairs nicely with Hallcrest Stone.
We love choosing a backsplash that can add dimension and texture to your element. This gorgeous leaflike white tile brings in a natural vibe and it's stark white color contrasts, yet compliments, the natural look with a touch of sleek modernism. A white shaker cabinet offers a bit of a traditional feel and sleek black hardware adds weight to boldly contrast the white. Blending traditional and modern styles offers both visual interest and appeal.
Your kitchen should be a reflection of yourself, and a herringbone natural hardwood floor adds personality and character. As does this matte black sink, which coordinates perfectly with the countertops and the cabinet hardware, while offering a unique and original twist. To add a touch of shine to a room with mostly matte finishes we recommend choosing a stainless steel faucet. We chose an Edison faucet that is both funky and functional.
To complete this element we've chosen a dark grey modern refrigerator. It's color coordinates perfectly with our sink and hardware, and the stainless steel handles tie in the sink faucet, perfectly balancing the space.
Featured Designer: Maddie Bouma