If you love Football
chances are you love game time munchies.
If you love Football
chances are you'd rather be watching the game, than stuck in the kitchen.
If you love Football
these Chipotle Brisket Sliders will be the best part of your Sunday.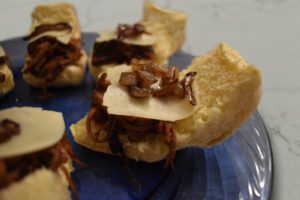 Do all the hard work the night before, and let the beef soak up the flavor overnight. Toss the beef and sauce in a crockpot for 8 hours, and you'll only need 15 minutes to put these sliders together before the game.
Ingredients
For the Beef:
2 pounds beef brisket
1 medium onion, chopped
2-3 cloves garlic, minced
3/4 cup ketchup
1/4 cup beef broth
1/4 cup brown sugar
1 tbs Worcestershire sauce
1-2 canned chilies in adobo, minced
1/2 tsp paprika
1/2 tsp dry mustard
1/2 tsp chili powder
1/2 tsp salt
1/2 tsp pepper
2 packages King's Hawaiian Rolls
8 slices Havarti cheese, cut into quarters
For the Caramelized Onions:
3 medium yellow onions, thinly sliced
3 tablespoons butter
3 tablespoons olive oil
Directions
Place the brisket and chopped onion in the bowl of a lightly greased slow cooker.
In a medium bowl, whisk together the ketchup, beef broth, brown sugar, Worcestershire sauce, chilies in adobo, and spices. Pour over the brisket.
Cover and cook on low for 8-10 hours, or until meat shreds easily with a fork.
Remove the brisket from the slow cooker and shred. Cover and keep warm.
Pour the sauce from the slow cooker through a fine mesh sieve into a medium saucepan.
Simmer for 15-20 minutes over medium heat until sauce thickens and reduces by about half.
While brisket is cooking, caramelize your onions. Heat the butter and oil in a large skillet over medium-low heat. Cook, stirring occasionally, until the onions are dark golden brown.
Toss the shredded meat with the sauce (that you simmered in step 6).
Slice King's Hawaiian rolls horizontally.
Pile beef on the bottom half of the buns.
Top with a quarter slice of cheese and some caramelized onions.
Add the top half of the bun and enjoy alongside a rich Malbec.
Chipotle Brisket Sliders featured on Barrington, by Element Stone.