Get Motivated this Monday
#findyourelement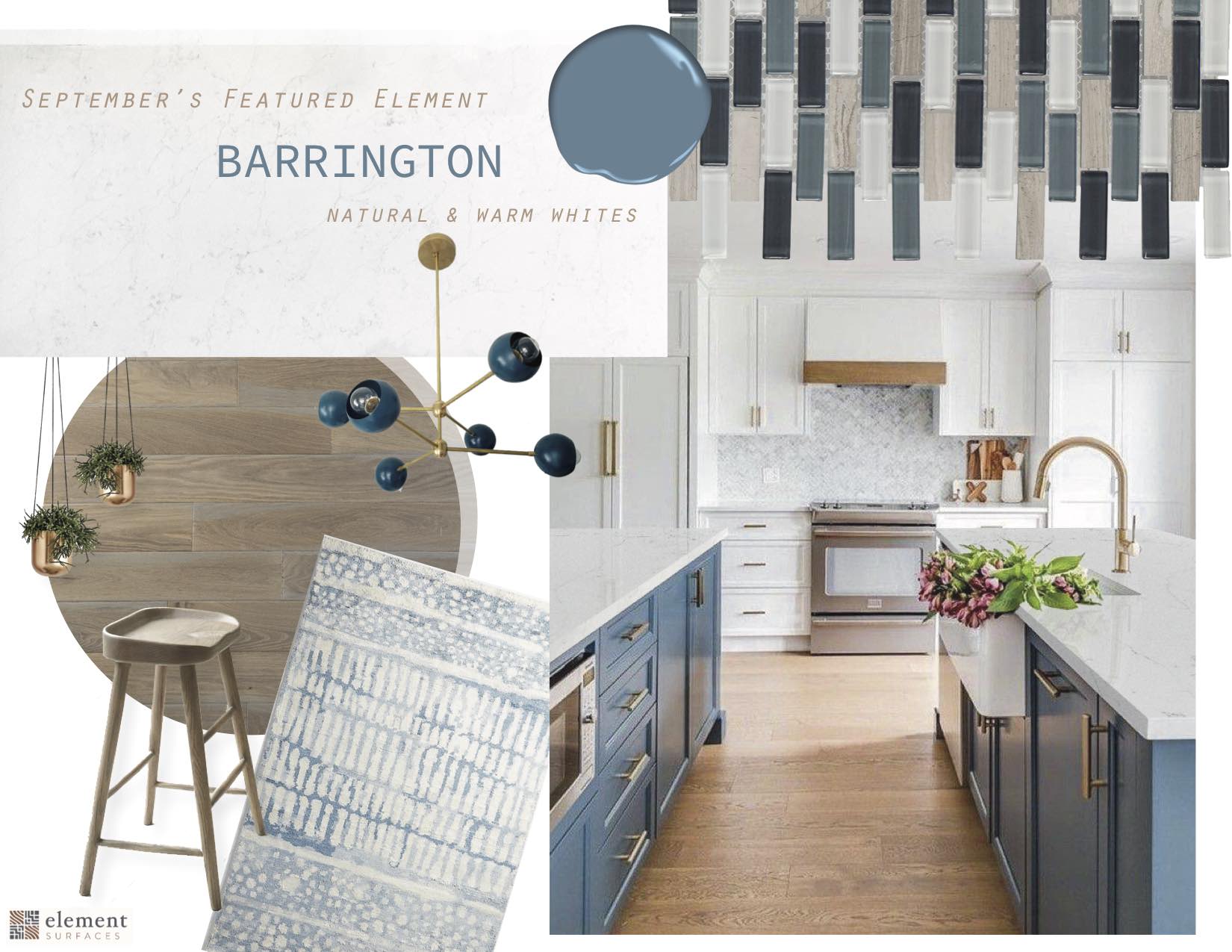 This warm white substrate offers an elevated finish that is perfect for your kitchen or bathroom. Barrington's light striations add a touch of sophistication that has quickly made it a favorite amongst both designers and homeowners.
Two-toned cabinets have been becoming increasingly popular in the past few years. Add your own twist by making the bottom cabinets a deeper shade of blue using Benjamin Moores color "Blue Nose." Adding a funky mid-century modern lighting fixture in the same tone of blue will modernize the space and add a pop of color the the ceiling drawing the eyes up, which is great for kitchens with tall ceilings! Also, remember to opt for a multi-colored back splash to add a little more saturation and dimension to your kitchen. We love this glass mosaic combo from Jeffrey Court!
A lot of people don't realize how textiles can be used in the kitchen. Adding a hand-woven rug will add even more warmth to the space and also bring some texture to the ground. We love this one from Anthropologie with it's uneven, broken lines.
Barrington has a warm undertone, so we wanted to bring that out through the mixed metals in the kitchen. We used brass or copper for everything from the cabinet pulls to the hanging pots the plants live in. Stainless steel appliances are great because they never go out of style.
**idea hack. Instead of going with stainless steel appliances, go with a copper finish. It will make the kitchen a little more flashy! If you're a person looking for a little extra bling this would be perfect! 
Seating options can be a hard choice for a kitchen since so many people tend to congregate in this space. We love these completely wooden stools! They are perfect for a bar space, or can easily be lined up along the wall when you are not using them.  Since they are a solid material they don't compete with the rest of the space, and add a warmth that picks up on Barrington's veining.
Featured Designer: Meredith Matsakis
Element Essentials
Benjamin Moore Paint Color Blue Nose – 800
White Oak Flooring with a texturized Gray Finish
Jeffrey Court's Glass Mosaic Tiles for the Backsplash
Amazon's Hanging Brass Planters
Wooden Stools
Anthropologie's Tufted Rainfall Rug
Sazerac Stitches 6-light mid century modern style chandelier